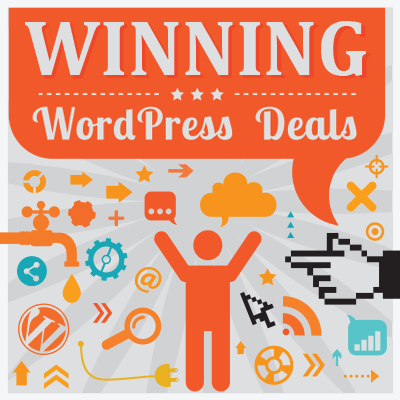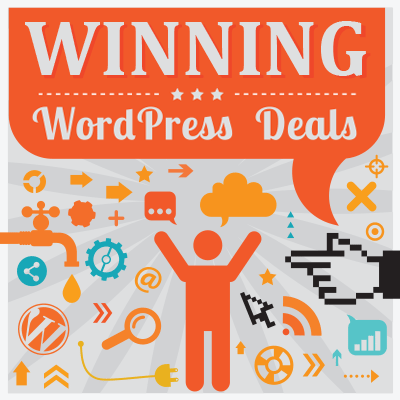 On the hunt for the best WordPress ecommerce themes to launch an online store with WordPress?
More and more businesses are opening stores online — and it's not just brand new businesses, with even old and established brick-and-mortar players now understanding the importance of having an online presence.
Getting online customers to actually make a purchase on your website, however, requires proper planning. In the few seconds a mouse hovers over your homepage, you've got to tempt the visitor to stay longer, look around more and, most importantly, buy!
To help you find a design that will set you up for success, we've collected 16+ of the best ecommerce themes for WordPress in 2021 and beyond.
Most of these are dedicated WooCommerce themes because, when you're talking about WordPress ecommerce, it's impossible not to focus on WooCommerce. It's by far the most popular WordPress ecommerce plugin (and it's also just plain the most popular ecommerce solution — even more popular than Shopify and Magento).
However, you can still find other WordPress ecommerce plugins if needed, most of which will also work with the themes on this list, though the experience might not be quite as fluid.
With that introduction out of the way, let's talk about some tips for choosing WordPress ecommerce themes and then get into our curated list of 16 top options.
You Can Use Two Types of Themes for Ecommerce in 2021 and Beyond
In the past, when you wanted to choose an ecommerce theme, you would go search for a dedicated ecommerce theme in your niche. For example, if you had a furniture store powered by WooCommerce, you would search for a "furniture store WooCommerce theme".
But that's changed because the WordPress theme marketplace has changed…
Now, when you're choosing a WordPress ecommerce theme in 2021 (and beyond), you have two options:
You can continue using that niche-focused approach — that's still a totally fine option.
You can use one of the new breed of lightweight multipurpose themes — by this, I mean big names such as Astra, GeneratePress, etc. These themes aren't 100% focused on ecommerce like a niche theme, but they do include plenty of dedicated ecommerce features on top of highly customizable designs.
In the list below, I've included both types of themes in a roughly 50/50 ratio so that you can choose the approach that's right for you.
The advantages of the lightweight, multipurpose theme approach are that:
You get a ton of customization options to really build a unique design for your store.
Their lightweight nature helps you create a quick-loading store.
You aren't limited to a single niche — most of these themes include a bunch of different demo sites that you can import.
But the advantages of the niche-focused approach are that:
You can be up and running with a great-looking store very quickly, even if it's not quite as unique-looking as the multipurpose theme. Having lots of customization options is great, but sometimes you just want something that's going to look perfect right away.
If you are operating in a specific niche, a dedicated niche theme gives you everything you need in one package.
What to Look for In Your Ecommerce Theme
Whether you choose a flexible multipurpose theme or a dedicated ecommerce/WooCommerce theme, there are some important features and characteristics to look for.
The first is performance — I'm singling it out because it's incredibly important for an ecommerce store. There's lots of data connecting how quickly your store loads with important metrics such as conversion rates and bounce rates, along with general user experience. As your store's foundation, your theme will play a big role in how quickly your site loads (along with other considerations such as implementing WordPress performance best practices and choosing fast hosting).
This doesn't mean you need to go with the absolute most lightweight theme and sacrifice everything else — sometimes it might be worth a small performance trade-off to access key features that you need. But it does mean that you should at least factor performance into your decision.
Beyond that, think about the following areas:
User experience — this is kind of a catch-all, but you'll want to make sure the theme makes it easy for shoppers to browse and purchase items. Consider issues such as navigation, shopping cart design, checkout page design, etc.
Conversion optimization — beyond user experience, make sure the theme follows good conversion optimization best practices. For example, making it easy for people to see reviews (social proof), trust badges, etc.
Mobile design — all of the themes on this list are responsive (which means they work on any device), but I still encourage you to actually open the demo sites on a mobile device so that you can get a good feel for whether you like your theme's mobile experience.
Compatibility — in addition to compatibility with the ecommerce plugin that you're using (e.g. WooCommerce), you'll also want to look for compatibility with other plugins. For example, if you're creating a multi-vendor marketplace, make sure the theme plays nice with your plugin (e.g. Dokan Multivendor or WC Vendors).
Features — look for certain key features you might want such as off-canvas sidebars for product filters, slide-out shopping carts, distraction-free checkout, etc.
Ongoing support — make sure the theme has a high-quality developer behind it and releases regular updates to maintain compatibility with WordPress and WooCommerce. All of the themes on this list are still well-maintained when we're writing this list, but that might change in the future (though we'll try to keep the post updated).
Sixteen of the Best WordPress Ecommerce Themes on the Market
With those issues in mind, let's jump into our collection of the best WordPress ecommerce themes. These are in no particular order, but I did try to mix up the lightweight multipurpose themes with the dedicated ecommerce themes so that you can get a good look at both types.
Astra
Astra is the most popular non-default WordPress theme of all time, with over one million active installs at WordPress.org. It's not focused specifically on ecommerce, but it does include lots of WooCommerce demo sites and you also get a ton of ecommerce-focused features, especially if you purchase the premium version (Astra Pro).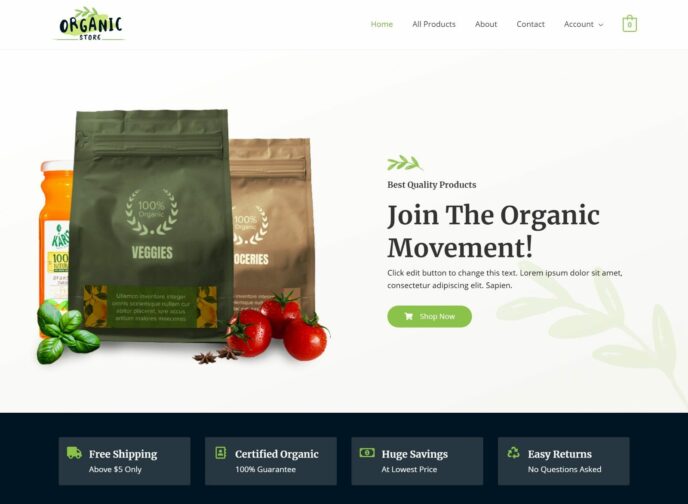 In addition to its lightweight, performance-optimized design, you get built-in features such as off-canvas sidebars for product filters, product quick view, distraction-free checkout or two-step checkout, drop-down cart, infinite scroll for products, and more.
Astra Pro also includes a really useful custom layouts feature that lets you inject your own custom designs at various parts of your theme. Think of it like WooCommerce hooks on steroids.
If you're using Easy Digital Downloads (EDD) to create a digital ecommerce store, Astra also has full support for EDD.
You can learn more in our full Astra theme review or check out some Astra theme examples.
Details — Demos (pictured above is the Organic Store demo site)
Price: Free / $59 for Astra Pro.
Shoptimizer
Shoptimizer is a theme that's 100% focused on ecommerce and implementing ecommerce conversion best practices. I would say this latter focus (on conversions) is a big part of what makes Shoptimizer unique as compared to some other WooCommerce themes.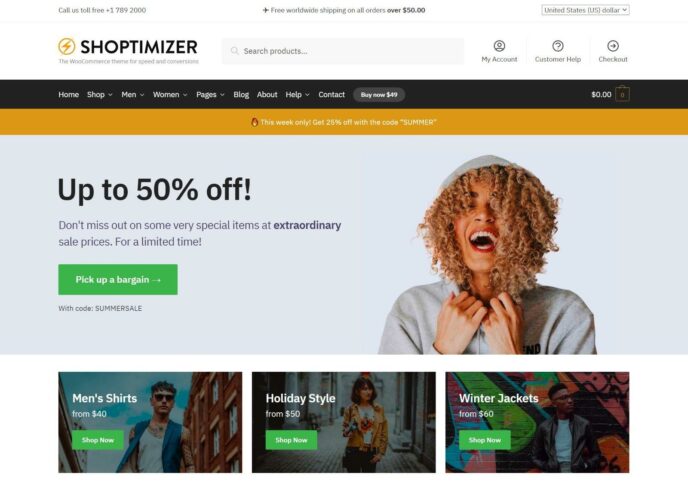 Here are some of the most useful features:
Built-in code optimization for improved performance (code minification and critical CSS).
Distraction-free checkout.
Add details on return and shipping policies next to the cart button. This is a great way to remove any doubts your customers might have.
Request a callback feature (good for high-value products).
Sticky product details on scroll.
Trust badges.
Add countdown timers for stack status and sale expirations (generate FOMO — fear of missing out).
If you want to use BigCommerce and the BigCommerce WordPress plugin instead of WooCommerce, Shoptimizer also has a version of the theme for BigCommerce. You can learn more about BigCommerce here.
Price: $49 (it's listed at $99, but it's almost always on sale for $49).
OceanWP
OceanWP is another multipurpose theme that offers a deep integration with WooCommerce, including lots of useful features for improving your ecommerce store and plenty of importable ecommerce demo sites.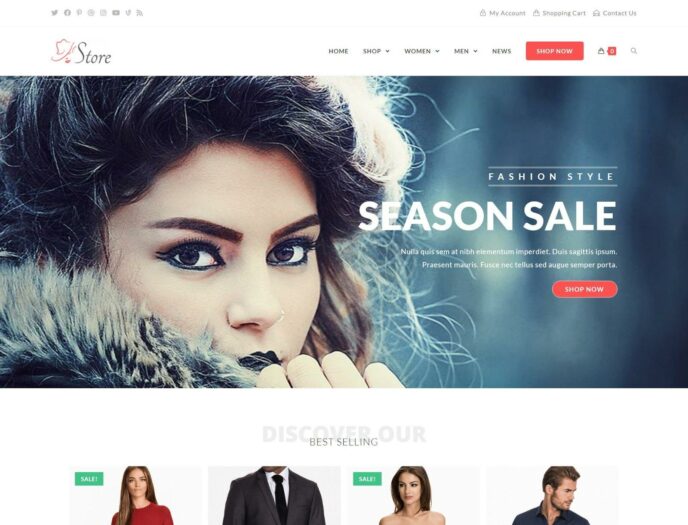 If you use OceanWP for WooCommerce, you'll almost certainly want to purchase the premium version, which is what unlocks a bevy of useful ecommerce features including the following:
Product quick view.
Mini cart on mobile — appears on touch.
Display cart when a user adds an item to the cart.
Off-canvas sidebar for product filters.
Sales badges.
Distraction-free cart and checkout pages.
Multi-step checkout.
From a performance perspective, OceanWP isn't quite as lightweight as a theme like Astra. But it still gives you everything you need to create a quick-loading store and its many customization options give you a lot of flexibility for setting up your store.
You can learn more in our full OceanWP theme review.
Details — Demos (pictured above is the Store demo)
Price: Free / $39 for Pro.
Flatsome
With over 164,000 sales, Flatsome is the best-selling WooCommerce theme at ThemeForest (and also one of the overall most popular ThemeForest themes), where it's also maintained an excellent 4.81-star rating on over 6,400 reviews.
Your shoppers will have a delightful experience searching for products on your store with this theme, as it includes touch-optimized sliders and product carousels. You can also display your products in tons of attractive ways with CSS animated banners, parallax banners, video banners and sliders, predefined and animated banners, and built-in quick view.
You'll also get lots of options for creating a unique-looking store, with over 15+ different importable ecommerce demo sites. You can see the Classic Shop demo below: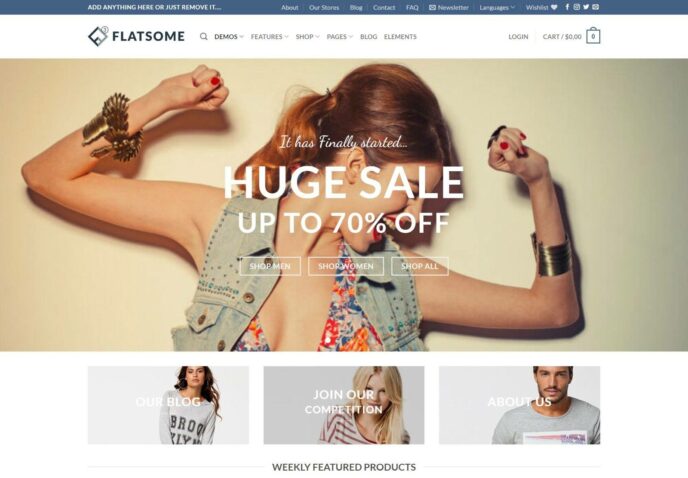 The theme offers a number of options, which you can add according to requirements — Facebook login, quick zoom of product images, live search for products, sticky headers for easy navigation, unlimited forms, and 'wishlist' or 'like' features. It also supports catalog mode, which lets you hide prices and just display a directory of your products.
Price: $59
Porto
After Flatsome, Porto is the second-most popular ecommerce theme at ThemeForest, where it has over 62,000 purchases. More impressively, the Porto theme has maintained a near-perfect 4.92-star rating on almost 3,000 reviews.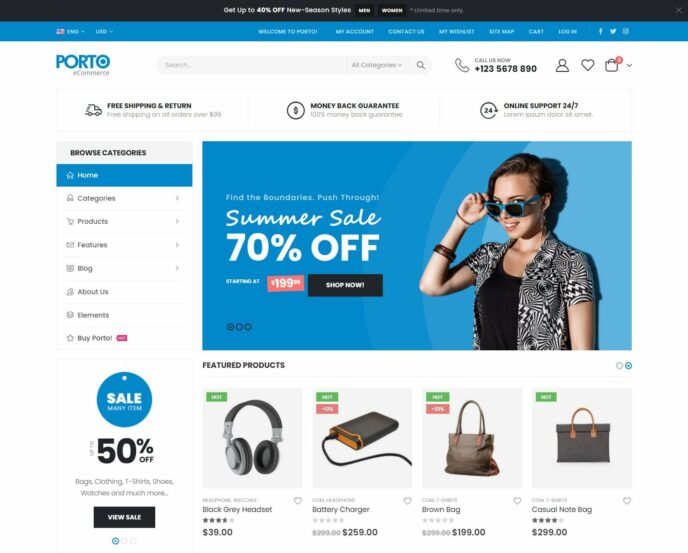 You'll get access to over 42 different ecommerce demos, along with a number of multipurpose demos, as well. You'll also get pixel-perfect control over your header and footer as Porto lets you design them using your favorite builder including the WordPress editor, Elementor, Visual Composer, or WPBakery Page Builder.
Beyond that, you get tons of useful ecommerce features such as product quick view, sale widgets, a slide-down cart, product comparison and wishlist integrations, and lots more.
Price: $59
Kadence Theme
Kadence Theme is another multipurpose theme like OceanWP and Astra that makes a great option for any type of ecommerce store. In addition to a lightweight design, it includes multiple ecommerce demos sites along with a dedicated WooCommerce add-on (with the premium version).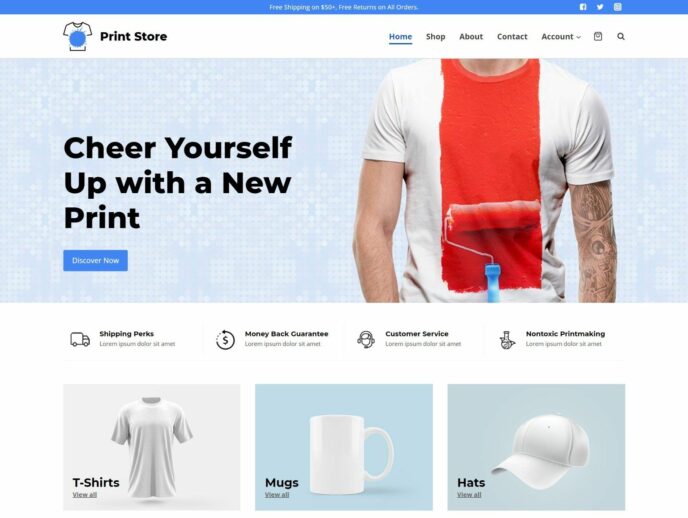 With the WooCommerce add-on, you'll get useful features such as an automatically opening a side cart when a user adds a product to their cart (like Shopify), custom shop pages designed with blocks/page builder, Ajax add to cart, and more. This is all built on top of a really customizable base theme.
The developer, Kadence, also makes a number of WooCommerce plugins, which you can get access to for one price if you purchase the full Kadence Theme bundle.
Price: Free / $79 for Kadence Theme Pro or $219 for Kadence Suite, which includes the developer's WooCommerce plugins.
Divi
Divi is a flexible multipurpose WordPress theme that comes bundled with the visual, drag-and-drop Divi Builder. With the theme's many customization options and the visual builder, you can build a 100% custom ecommerce store without needing any technical knowledge.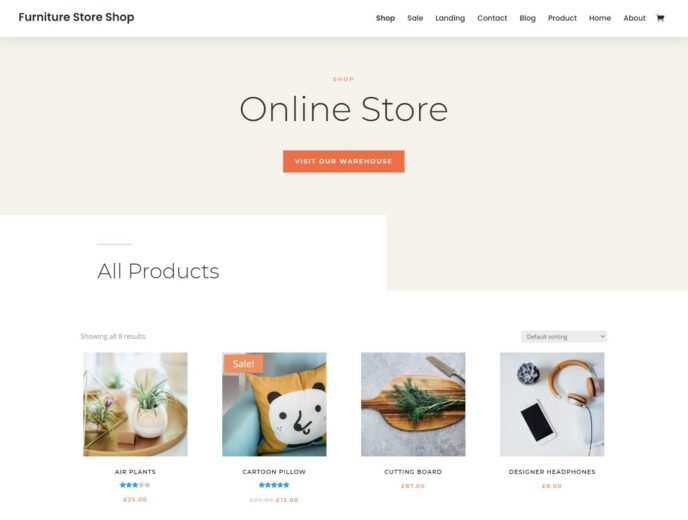 However, you don't need to build your store from scratch because Divi comes bundled with over 1,000 templates, including 22+ themed layout packs for ecommerce stores that contain 156+ total templates. You can quickly create a store in different niches such as fashion, cosmetics, digital photography (great for Easy Digital Downloads), furniture, hardware, and more.
The Divi Builder also comes with dedicated modules to display WooCommerce content. And, as of Divi 4.0, Divi now supports full theme building, which means that you can actually design your shop and single product templates using the full drag-and-drop builder.
You can learn more in our Divi theme review.
Details — Demos (pictured above is the Furniture Store layout pack)
Price: $89
GeneratePress
GeneratePress is the last multipurpose theme I'll put on here, but it definitely deserves a spot thanks to its incredibly lightweight design and built-in WooCommerce features.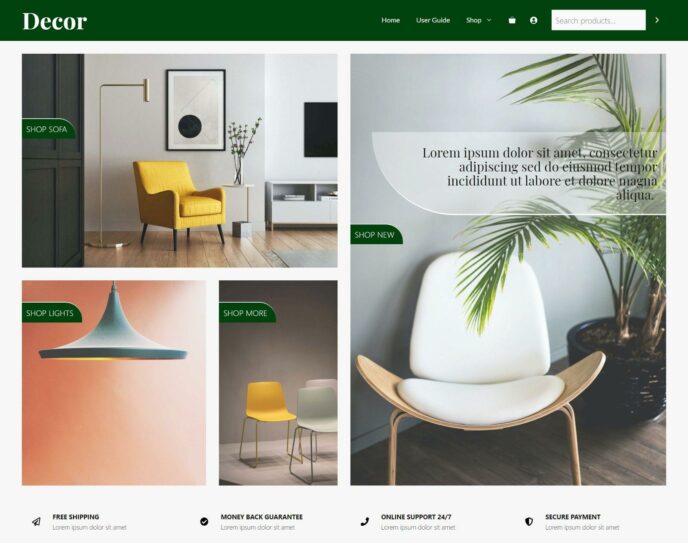 In addition to a highly customizable design, you'll also get 10+ pre-built ecommerce demo sites (with the premium version), along with features such as display mini-cart on hover, show cart panel on add to cart, distraction-free checkout, and more. Learn more about the WooCommerce features here.
With the latest version of the premium theme, GeneratePress 3.0, you'll even get your own block-based theme builder to create your own custom templates using the WordPress editor.
Personally, I love this theme and I use it for my own sites, so I don't think you'll go wrong if you choose it as the base for your ecommerce store.
Details — Demos (pictured above is the Decor demo)
Price: Free / $59 for GeneratePress Premium.
WoodMart
WoodMart is another popular WordPress ecommerce theme at ThemeForest, where it's racked up over 31,000 sales with an incredibly impressive 4.94-star rating on over 1,500 reviews.
Part of why people love WoodMart is its flexibility — you'll get over 70 pre-built importable demo sites covering a range of different niches. You also get flexibility via integrations with page builders and a built-in drag-and-drop header builder.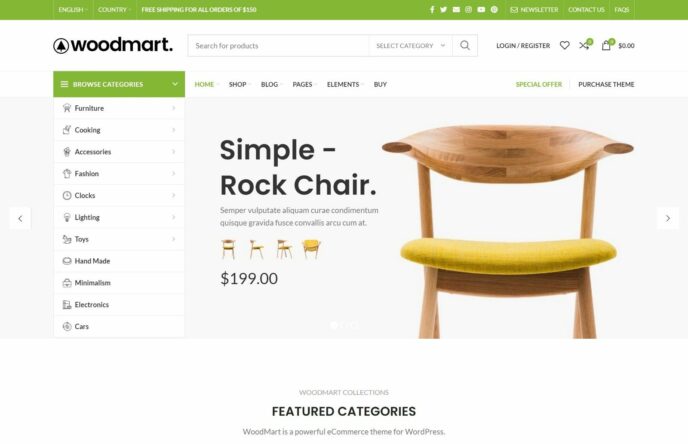 In terms of WooCommerce-specific features, you'll get useful options such as product comparisons, a slide-out shopping cart (like Shopify), product quick view, wishlist support, size guides, variation swatches, and lots more.
WoodMart also optimizes its code by only loading each bit of CSS and JavaScript where it's needed, which helps you shrink the size of your store and speed up load times.
Details — Demo (you can see all 70+ demos by using the "Demos" widget on the right side)
Price: $59
Woostify
In my mind, I always think of the Woostify theme as "Astra…but only for WooCommerce stores". That is, it's lightweight and works with any niche, just like Astra. But at the same time, all of its many demo sites and features are 100% focused on WooCommerce. Having this singular focus lets it bake in some useful WooCommerce features, especially if you upgrade to the premium version.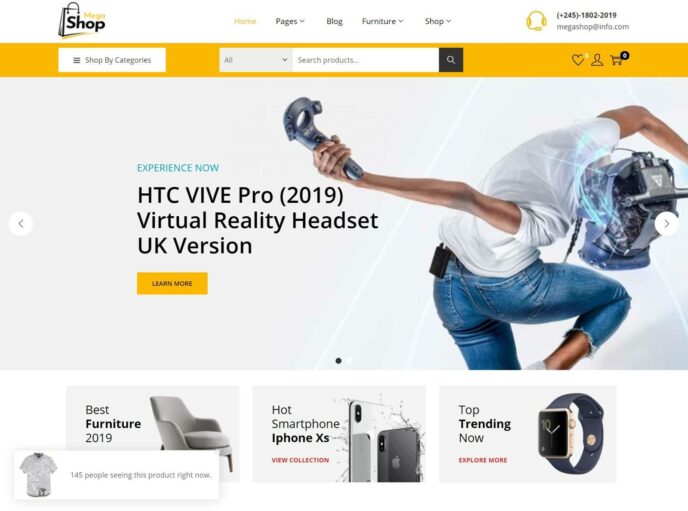 You'll get 17 pre-built demo sites for different ecommerce niches, along with useful features such as a buy now button (direct checkout), options to customize the cart and checkout pages, sales notifications, product quick view, sticky add to cart buttons, variation swatches, Ajax live search, countdown timers, size guides, and more.
Basically, this thing is packed with ecommerce features, though you need the premium version to access a lot of what I mentioned above.
Details — Demos (pictured above is the Mega Shop demo)
Price: Free / Woostfy Pro starts at $49.
Storefront
Storefront is as close to the "default" WooCommerce theme as possible, and it comes to WordPress users absolutely free. It's designed by Automattic, the same folks who built the WordPress.com platform and the WooCommerce plugin. The core Storefront theme is pretty basic, but one of the things that makes it flexible is that you can find a number of free and premium child themes to adapt the design to different niches.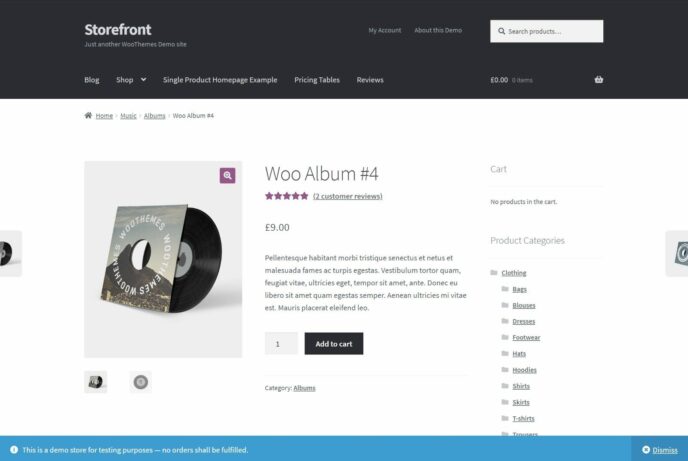 Even with a child theme, this is a bit of a bare-bones theme, meaning it's kept intentionally light to perform core ecommerce functions with great efficiency. However, it gives you the room to add functions as you please to a rock-solid platform.
There's also a Storefront Powerpack plugin that adds some additional features and customization options.
Price: Free / Some child themes cost money (~$39) and the Storefront Powerpack plugin costs $59.
Shopkeeper
With Shopkeeper, you can simply adopt a prebuilt page from among the many that come with the theme. Or, if you wish to be adventurous and start from scratch, the advanced theme options will help you to create the page that best reflects your store's brand. The theme is a delight for developers too, as they can put together a website in no time at all for different clients using prebuilt layouts, numerous design elements, and customization options.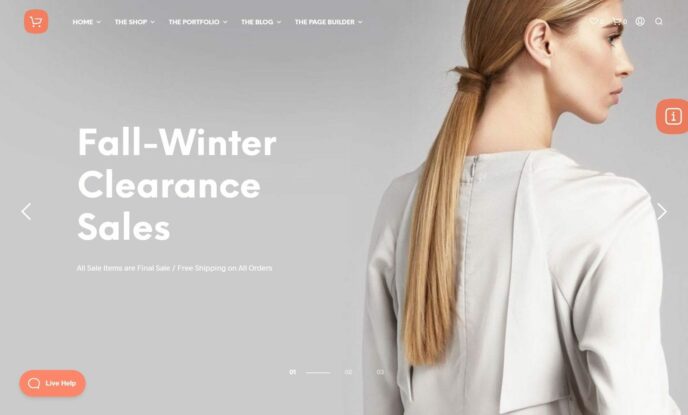 Almost every store function — from product display to shipping — is taken care of. The theme also bundles in two premium plugins, WPBakery Page Builder (which helps with page building) and Slider Revolution (for slideshow display).
Price: $59
KALLYAS
Kallyas is a multipurpose WordPress theme that you can use across multiple niches, including ecommerce. It comes with built-in Zion Builder, which allows for easy drag-and-drop customization. After you've designed a page, you can save any part of it or the whole page for future use.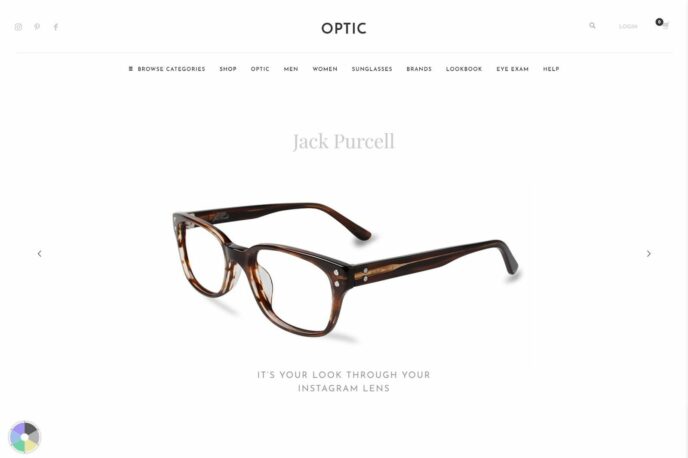 The shop-specific features in this theme include homepages designed specially for shops, sliders and carousels for product display, category pages with sidebars, product pages, shopping cart, checkout process, and customer accounts.
In total, you can choose from over 65 different pre-built designs to find the perfect one for your store.
Price: $59
WoonderShop
Like Shoptimizer, WoonderShop is another dedicated WordPress ecommerce theme that puts a focus on conversion optimization. It includes a few different child themes, called "skins", including one called Jungle Edition that lets you mimic the design of the world's most popular ecommerce store, Amazon (pictured below).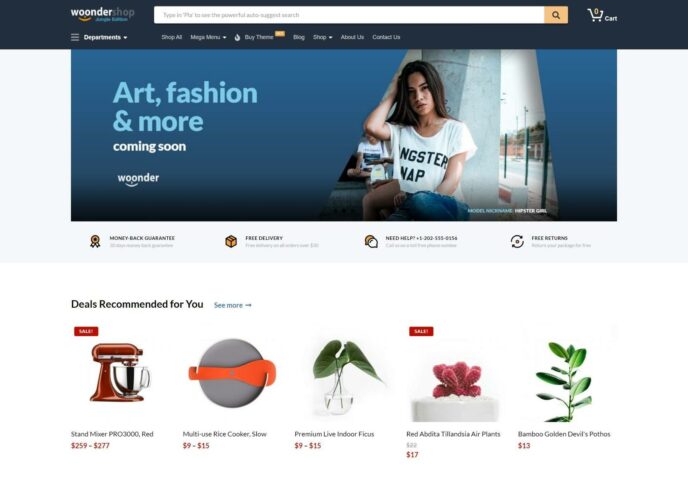 In terms of conversion-optimized features, you get auto-complete live search, a slide-out cart that appears when shoppers add an item, flexible cross-sells, optimized checkout process, Ajax product filters, and more.
Price: $79, but you can test it out with a free seven-day trial.
Aurum
Aurum is a minimalist and fast-loading theme for WordPress stores. It has four demo versions that you can import and adapt — Bookstore, TechShop, Jewelry, and Fashion — and other stores can adapt these templates as well. It makes use of high-quality images, fonts and text, and a welcome page receives visitors and directs them to the regional store that's closest to them.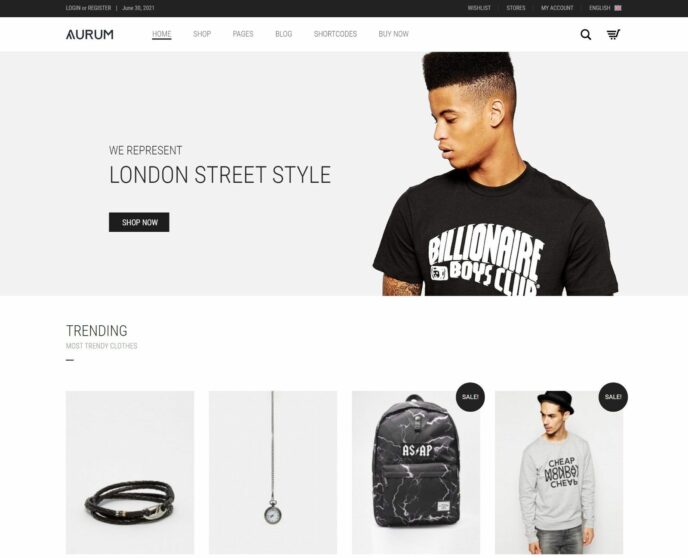 The header comes in many variants, including a transparent one that will add effect to parallax backgrounds. Aurum is touch-optimized, and so viewing the products on a carousel is a pleasant experience. It also includes shopper-friendly features such as YITH Wishlist compatibility, a custom search page with content filters, and breadcrumb navigation.
Using content blocks or sliders, you can display limited products right in the homepage. You can display the latest products, popular products or special offers here, and the homepage can also carry a few popular blog posts to draw attention to specific products or promotional offers.
Price: $59
Electro
Electro is a dedicated WooCommerce theme specifically built for electronics stores. As such, it has a design that's reminiscent of Best Buy or other popular electronics retailers. You can see this in the screenshot below, though you can choose from different demo sites.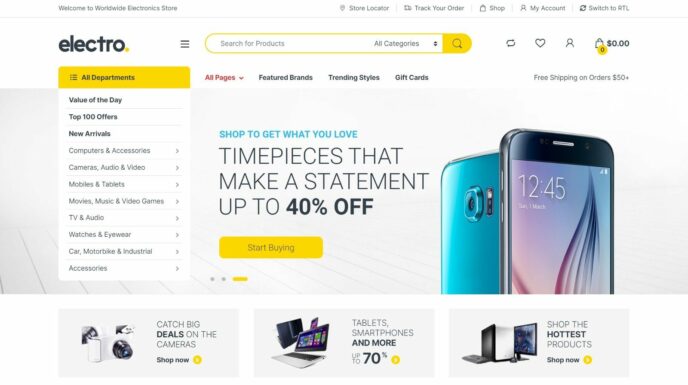 In addition to its modern electronics-focused looks, you also get useful features such as support for multi-vendor marketplaces (via popular plugins), integrations with Elementor and WPBakery Page Builder, built-in mega menu support, live autocomplete search, and more.
All in all, I think this one is a great option because it has a very unique look that's hard to find in other themes. So if you need this modern, electronics-focused design, it's definitely one of your top options.
Price: $59
Bonus: Use a WooCommerce Theme Builder for More Control
This one is a bit of a twist because it's not a theme per se. But if you want absolute, pixel-perfect control over your WooCommerce store, you might prefer a theme builder plugin instead of (or as a companion to) the ecommerce themes on this list.
Here are some popular options:
You'll typically still want to pair these plugins with a WooCommerce theme because these tools don't normally let you design your cart and checkout pages. But they will give you full drag-and-drop control over your shop and single product templates.
In some cases, you might be able to add cart and checkout support via third-party plugins. For example, Essential Addons for Elementor or JetWooBuilder add these features to Elementor Pro, which would let you use a lightweight base theme such as Elementor's Hello theme.
Pick the Perfect Ecommerce Theme For Your Store
Finding the right ecommerce theme will play a key role in your store's success. It will affect how quickly your store loads, the shopping experience, conversion optimization, and more.
With those issues in mind, I tried to curate a list of excellent options that will work for a range of niches. Most of these themes are specifically for WooCommerce, but you could also use them with other ecommerce plugins and some do include support for Easy Digital Downloads.
If you're still not sure where to start, my personal recommendation would be to go with one of the lightweight multipurpose options such as Astra, GeneratePress, or Kadence. While these themes aren't 100% focused on ecommerce, they do include all of the features you need and offer lots of options to help you create a great-looking, unique ecommerce store. They'll also help you ensure that your store loads quickly.
Most importantly — don't rush into making a decision until you're sure! Keep in mind that a well-thought-out online presence can have a huge impact on the bottom line — so be sure to get everything just right before diving in.
Used/using any of these themes? Any other ecommerce tips?